The cyclical nature of fashion is bringing back another trend that originated with the flashy workout clothing of the '80s – the bodysuit. Yogis are flocking to this new trend, but there are still plenty of reservations about the benefits of a bodysuit over yoga leggings. Yogis are concerned about the extra skin exposed by a bodysuit and how that relates to their overall yoga practice.
It certainly takes a significant degree of confidence in your body to wear an item as revealing as a bodysuit. However, how does it really compare to the extensively popular yoga leggings?
A bodysuit more closely resembles the leotards that were prominently worn with the average '80s costumes. It is a one-piece item that cuts like a ballet leotard but is designed to move and stretch with your body through your yoga practice. It leaves most of your leg exposed, which is similar to wearing shorts for your practice.
Exposing the legs does give you the ability to see better and control your overall alignment. You can keep the knees and the ankles in the proper position to prevent an injury. It also keeps you cooler during a sequence designed to build lots of heat, including a hot yoga practice. Both of these allow yogis to move a little deeper into their practice.
With yoga leggings, you do have to wear a workout top as well. Many of the styles worn with black yoga leggings are looser-fitting tops. This particular cut can gape or ride up during certain poses, such as the downward facing dog or the bridge pose. For yogis concerned with modesty during their practice, this exposure can be a considerable concern that prevents them from moving more deeply into these positions.
A bodysuit has the benefit of connecting both the top and the bottom of your workout gear. It is impossible for the bodysuit to ride up or gape during inversions due to this connection of the fabric. While it does leave more skin exposed, it also adds a degree of modesty to many workout tops designed for yogis.
For those who are still concerned about their ability to pull off a bodysuit, they can be definitely be paired with yoga leggings. You can put a pair of black yoga leggings underneath your bodysuit for an outfit that very closely resembles an '80s costume. Opt for a bodysuit in a bold color in order to tie this whole look together.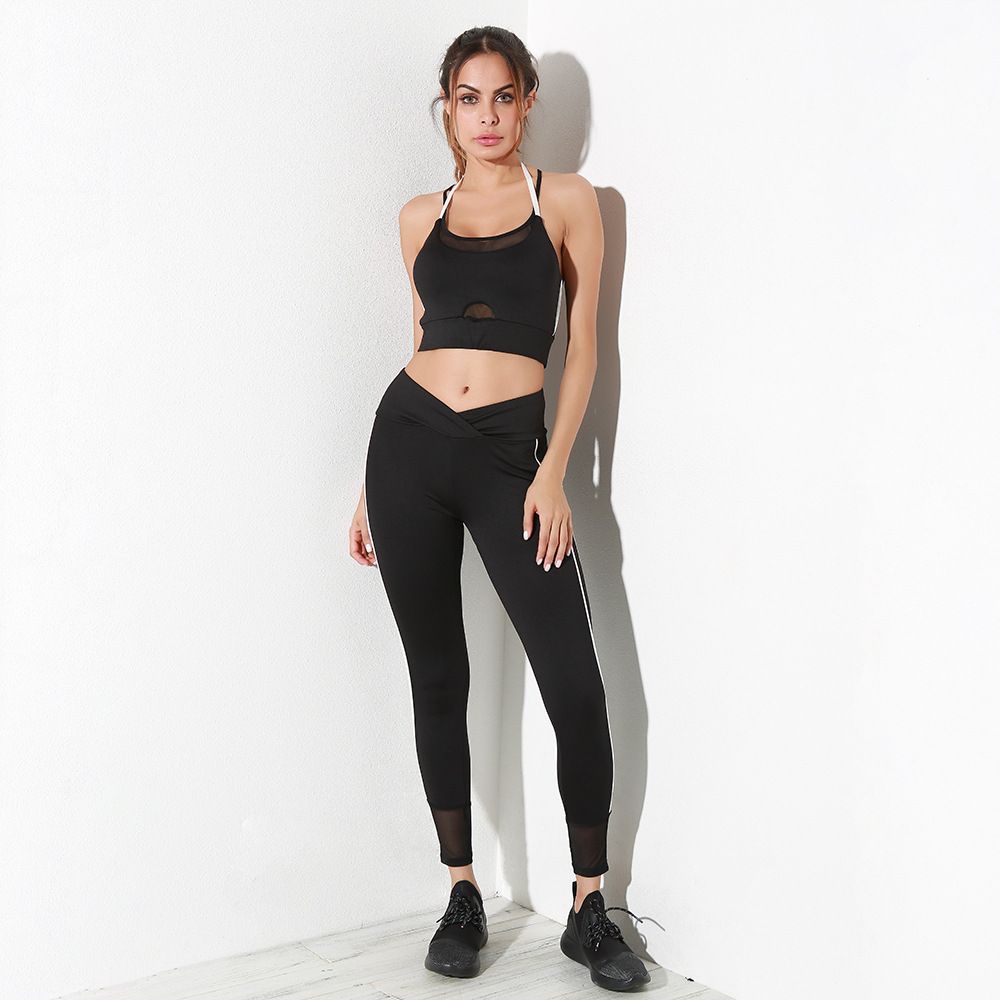 Alternatively, you could wear the bodysuit as a type of shirt with a pair of high-waist yoga capris over the top of the bodysuit. It allows you to gain the benefits of a bodysuit without drawing lots of attention to your ensemble. It can be a subtle way to introduce prominent trends into your yoga wear as you transition to a more fashion-forward way of dressing.
Overall, the yoga leggings and the bodysuits are both able to make some yogis feel more comfortable throughout their practice. Evaluate which item suits your body type and confidence level better, but there really is no wrong decision.